BET PARTNERS WITH IHEARTMEDIA TO AIR NATIONALLY SYNDICATED HIT RADIO SHOW
"THE BREAKFAST CLUB" ON BET
THE AWARD-WINNING MORNING SHOW STARRING
DJ ENVY AND CHARLAMAGNE THA GOD
WILL BE TELEVISED WEEKDAYS STARTING
MONDAY, APRIL 17th AT 9 AM ET/PT
BET announced a partnership with iHeartMedia that will bring the award-winning hit morning show "The Breakfast Club" starring DJ Envy and Charlamagne Tha God from iHeartMedia New York's Power 105.1 to BET's 2023 programming lineup.      BET Airs THE BREAKFAST CLUB Weekdays 9am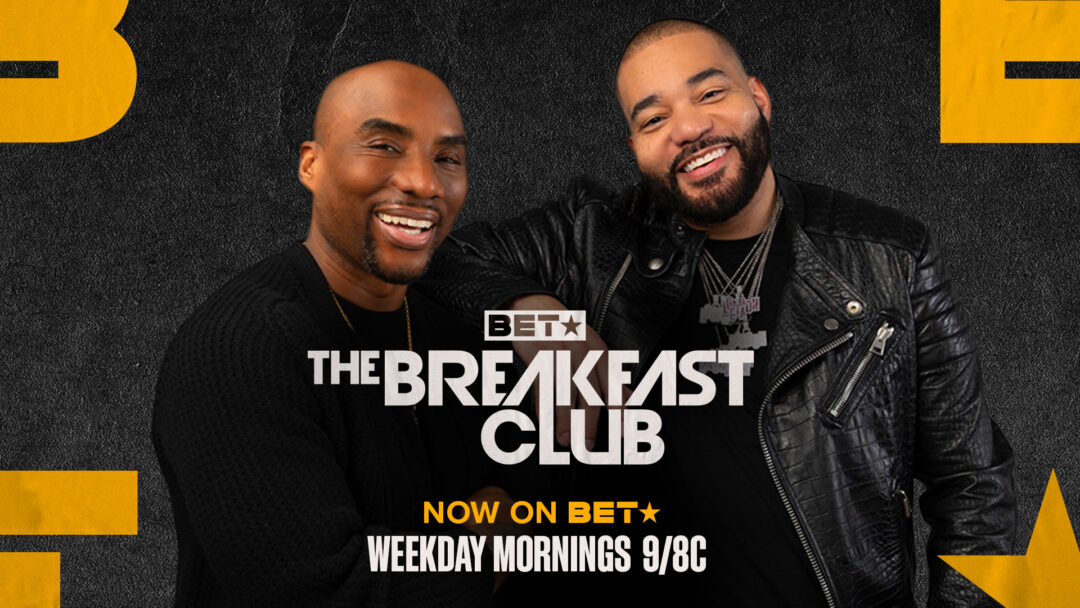 BET will televise a one-hour special edition of "The Breakfast Club" daily Monday through Friday. These specials will feature unrivaled interviews and conversations with celebrities, artists, and thought leaders along with entertainment news and conversations punctuated with The Breakfast Club's signature blend of honesty and humor.
The wildly popular, culture shifting morning show will be available weekdays to millions of fans starting Monday, April 17th at 9 AM ET on BET and VH1. Episodes from the week will all be available to stream every Sunday on BET+.
"The Breakfast Club on BET" marks the brand's return to producing daily programming for the first time since "106 & Park" in 2014. It also marks the brand's noteworthy and exciting introduction to daytime television.
"We're thrilled to partner with iHeartMedia to bring The Breakfast Club and their unique brand of entertainment and cultural commentary to our audiences," said BET CEO and President Scott Mills. "We recognize the show's influence and popularity, and we are confident that the partnership will be meaningful to our viewers and to our partners. Hosts Charlamagne and DJ Envy are long time members of the BET and Paramount family, so we couldn't be more excited to welcome The Breakfast Club home to BET."
"BET and iHeartMedia have a shared mission in engaging and entertaining lovers of hip-hop culture, so this partnership couldn't be a better fit," said Brian Rikuda, EVP, Enterprise Growth Strategy, Business Operations, and Programming Strategy, BET. "This addition to BET's programming lineup will superserve our loyal audiences with fresh content from the celebrities they love and expand our reach to new daytime audiences."
Each episode of "The Breakfast Club on BET" will feature the A-list celebrity interviews that are a mainstay of the broadcast radio edition, as well as the signature segments audiences have come to know and love, like Front Page News, the Rumor Report, and Charlemagne's Donkey of the Day.
"What began as a daily morning radio show over a decade ago in New York City, has now become a cultural beacon across America," said John Sykes, iHeartMedia's President, Entertainment Enterprises. "This new partnership with BET will expand the radio show's reach to millions more watching on this iconic television network."
"I'm looking forward to the opportunity to showcase The Breakfast Club on BET," said DJ Envy. "I love what the new BET is doing!"
"BET has been the home of so many cultural institutions, like Rap City and 106 & Park, that have shaped a generation," said Charlamagne Tha God. "Those shows laid the foundation for The Breakfast Club to stand on and grow into the cultural institution that we have become. We look forward to carrying on the tradition."
 "The Breakfast Club and BET are a perfect partnership," said Thea Mitchem, iHeartMedia's Executive VP of Programming. "We're excited to team up with BET to expand the reach of The Breakfast Club as they continue to entertain, enlighten, and uplift culture."
"The Breakfast Club" has become the bullhorn for modern culture and is widely regarded as the most informative and entertaining top-rated contemporary Hip-Hop/R&B morning show today. The Breakfast Club has become a must-stop destination for musicians, entertainers, and politicians alike with guests on the show ranging from former President Barack Obama, President Joe Biden, and VP Kamala Harris to Jay-Z, Cardi B, Kendrick Lamar, Kevin Hart, Snoop Dogg, Future, 50 Cent, Lizzo, Will Smith, and Alicia Keys. The morning program originates from iHeartMedia's legendary Power 105.1/WWPR-FM in New York and is nationally syndicated by Premiere Networks on more than 100 stations nationwide, including markets such as Houston, Atlanta, Miami, and Detroit. The Radio Hall of Famers also host "Weekends with The Breakfast Club," a three-hour weekly program featuring a countdown of the top 20 hits of the week.
About Charlamagne Tha God
Lenard "Charlamagne Tha God" McKelvey is a multimedia mogul, Radio Hall of Fame inductee, and best-selling author.  With nearly two decades of the pulse of culture in TV and Radio, he serves many roles as a co-host of The Breakfast Club, with drives millions of listeners daily, host of Comedy Central's Hell Of A Week With Charlamagne Tha God, a late-night show he co-created with Stephen Colbert, as well as an executive producer for numerous television and film projects.Continuously growing his media empire, Charlamagne has established several strategic partnerships including The Black Effect Podcast Network with iHeartMedia and Black Privilege Publishing, his publishing imprint at Simon & Schuster among others.  He is also the author of The New York Times Best Selling Black Privilege: Opportunity Comes to Those Who Create It and the nationally best-selling book, Shook One: Anxiety Playing Tricks on Me. Charlamagne founded the Mental Wealth Alliance, a forward-thinking foundation created to destigmatize, accelerate, and provide trailblazing mental health outreach and care across the U.S. while building an unprecedented long-term system of generational support for Black communities.
About DJ Envy
With a passion for music, DJ Envy started spinning at the age 16. As he perfected his craft, he quickly began gaining recognition as he evolved into one of the most notable DJ's over the years.  DJ Envy travels from city to city connecting with his fans nationwide, hosting some of the hottest clubs and events.  Reigning from Queens, New York, DJ Envy set out to pursue his dreams while becoming a role model and philanthropist. He soon began contributing back to his fans and community by teaching generational wealth, real estate seminars and providing paid opportunities for other DJ's. You can find Envy co-hosting the most dangerous morning show on nationally-syndicated radio, The Breakfast Club. The Breakfast Club now reaches an average of over 4+ million listeners, on nearly 100 stations, in over 40+ cities. In addition, he has his own podcast on YouTube and audio platforms with his wife titled "The Casey Crew" addressing topics on love, family and culture. Furthermore, he is a National Best Seller alongside his wife as they published a book called Real Life/ Real Love. DJ Envy is an experienced businessman, family man, lover of the culture, car enthusiasts, actor, real estate mogul and an entertainment industry leader with a powerful voice reaching varies demographics across the country.
About BET
The BET Media Group, a unit of Paramount (NASDAQ: PARAA; PARA; PARAP), is the world's largest media company dedicated to entertaining, engaging, and empowering the Urban community and championing Urban culture. Connecting Urban audiences through a portfolio of brands including BET, BET+, BET Gospel, BET HER, BET International, BET Jams, BET Soul, BET Studios, and VH1, the BET Media Group is a thriving media ecosystem of leading interconnected platforms across cable TV, streaming, digital, studios, live events, and international. For more information about BET, visit www.bet.com and follow @BET on social platforms. For more BET news announcements, follow us on social @BET_PR.
About iHeartMedia
iHeartMedia, Inc. [Nasdaq: IHRT] is the leading audio media company in America, reaching over 90% of Americans every month. iHeart's broadcast radio assets alone have more consumer reach in the U.S. than any other media outlet; twice the reach of the next largest broadcast radio company; and over four times the ad-enabled reach of the largest digital only audio service. iHeart is the largest podcast publisher according to Podtrac, with more downloads than the next two podcast publishers combined and has the number one social footprint among audio players, with seven times more followers than the next audio media brand, and the only fully integrated audio ad tech solution across broadcast, streaming and podcasts. The company continues to leverage its strong audience connection and unparalleled consumer reach to build new platforms, products and services. Visit iHeartMedia.com for more company information.